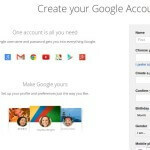 You can create a new Google account to access their suite of tools using your existing email address. The only Google app you'll not be able to access is Gmail. which is fine because your email is already managed elsewhere.
This saves you having to have a Gmail account that you need to check in addition to your current email. This is great for me, I've already got three addresses and the thought of an extra email is a bit much.
Rather than going through the "Create and account" option you'll see when you sign up for a Google service like Goggle+, go here instead:
https://accounts.google.com/newaccount
You'll note the option "I prefer to use my current email address"–use that!
Like most things, it's easy when you know how. Or in this case, where.