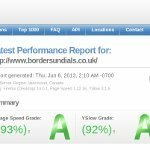 Much faster.
If you read my blog regularly you'll know Google in particular takes page speed into account when ranking your website.
But did you know research suggests any page that takes longer than 4 seconds to load starts to lose business? And anything over 7 costs you most of your traffic? Visitors to your site simply hit the back button to get out of there.
Google and Yahoo! both have tools that show you how well your site is performing for speed, and what you can do to improve it. They're called Page Speed and Yslow, and you can test them both at once using this tool:
Just put in the URL for your site, and hit go. In a few seconds you'll see exactly how well your site is, or isn't, doing.
Case Study
I recently sat down to improve the speed of bordersundials.co.uk. It was woefully slow, with a 7.4 second initial load time, and "C" grades for both Page Speed and Yslow.
After I'd finished with it, I'm thrilled to say it's loading in 1.84 seconds, with two "A" ratings.
As part of this I also suggested the website be moved to my boutique hosting solution, which is configured and tailored to include all kinds of speed extras that regular ISPs turn off.
Test your site, get in touch, and let's improve it.