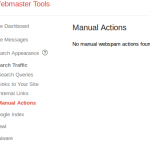 Another tool within the Google Websmater Tools suite, "manual actions" shows you if you've been penalised by Google for anything, and gives you the opportunity to request a review after you've fixed it.
Nice.
Basically, if you violate Google's webmaster guidelines, such as acquiring shoddy paid links pointing to your site, publishing spammy content, using hidden text, or engaging in other SEO sins of the sort, your site may be flagged by Google's algorithms, triggering a manual action.
via Google rolls out manual action notification & response tool.