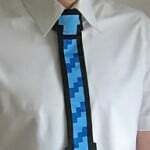 In an email exchange with a client this morning I got to spell out my views on professionalism, and thought I'd share them with you to.
There isn't enough of it in the world
I'm providing a service, and conduct myself as such
I don't get precious about things like a lot of developers and designers do. (Honestly, people need to get over themselves sometimes!)
And this one's really important; I both take pride in my work, and feed my family with it. Anything less than a five-star service means I'll have less than a perfect reputation, which keeps food off my children's table.
Point 3. is a particularly interested topic–I have known people who get so precious that they refuse to deliver what their client asks for!
Certainly, as a consultant and professional with 17 years experience, if I think a project or part thereof should be done differently to the brief, I'll suggest it with a solid rationale. But I also accept that if someone really wants to stick with their idea, they should be able too.
In some cases it boils down to this, I know web development, design, and online community–but my clients know their own businesses better than I! That's why I like to get to know my clients and their businesses, because I want to make sure they're using the web as effectively as they can for their business model.