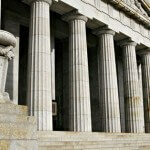 I work with my clients on what I call the Five Pillars, which all lead to the success of their online community.
People tend to look at most of these elements in a microcosm. "How's your SEO?", "Are you making the most of social networking?".
Seeing these as separate hinders your efforts to build and strengthen your online community, which you need to care about because those are the people who will pay for your products and services.
My five pillars are:
Core messages

SEO

Community

Social Networking

User experience
There is a great deal of crossover between them, as there should be when you're looking at the big picture rather than focusing on single points.
Over the next few weeks I'm going to describe each one in brief, and in the interests of pith I'll also do a tweetinar soon, summing the whole thing up in five tweets. That's going to be a challenge.
Fortunately, I love a good challenge.