There are a huge number of webhosts to choose from. Prices vary widely, which isn't too surprising because quality does too.
Don't just assume the cheaper web service is right for you. Here's a guide to some of the players:
Hostgator
From the long list of cheap options to host your website, they're certainly my recommendation. Their user interface is easy to get your head around, and their after sales care is pretty good.
There's not much more to say about Hostgator really; it's very competitively priced, and does what it says on the tin.
GoDaddy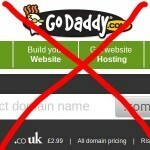 Basically, just don't. Never ever.
GoDaddy aren't so much in the hosting business, as they are in the spamming business. Having an account with them isn't too different from paying someone to send you constant emails that you don't want.
If you want more information see my case study on how to tell at a glance that Godaddy doesn't prioritise existing customers.
Bluehost
Bluehost are an OK, very cheap option.
They have some unusual clauses in their contract that gives them the right to cancel any account they deem inappropriate. And being owned by a strict Mormon family, they've been known to block sex-education websites used by schools simply for having the word "sex" in them. That seems to be a fairly isolated incident, but funny enough to mention.
Their after sales support isn't great, and they tend to put a lot of users on each server which can impact the performance of your site. Basically they're an exercise in "you get what you pay for". And as I say, they're very cheap.
Pete's Boutique
Say what? It's true, I've created my own boutique hosting service. It's based on my ethos that I want to make sure my clients get the best online presence they can.
Most web hosts keep costs down by protecting their server processing overheads, and turn off a bunch of features that can really improve the speed and reliability of your site. I turn them all on.
It's a small, personal service that treats you as a real person with real dreams for your business, rather than just a line in a database somewhere.
VPS.NET
I really like their service, although they're certainly the most expensive in this comparison. And their system is a little confusing; it's geared towards having people sign up for full virtual servers rather than just hosting websites.
There is an option to do the latter, called Cloud Sites, and starts at £13 a month but quickly starts to rack up to £40.
Their support is excellent, which is helpful because the slightly confusing nature of their interface means you'll be using it quite a bit at the start.