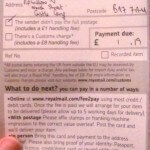 I've been caught out by this a few times now.
Posting a USB memory stick costs more than a regular letter. Many people just pop them in envelopes and stick a standard second class stamp on it, thinking nothing of it.
And fair enough, you'd be forgiven for thinking something so small should count as a standard letter.
Sadly, they're generally too thick to be accepted that way, and the recipients end up with a small (but annoying) fee to pay at their local Post Office. Easily the most frustrating thing is usually the postage is only 19p short, to which a pound gets added as a handling fee—and thus the Royal Mail makes more on the transaction than it would cost to send the item twice.
(If you're on of the people who has recently fallen foul of this when sending me USB sticks, fret not, I have no plans to come after you! Just to show there are no hard feelings, a few bricks are on their way to you, affixed with a single used stamp from New Zealand. Don't get upset with me, they're too large to fit through your mail slot so you were always going to have to visit your local Post Office for collection anyway.)